Arthritis
Friends say Lorraine Semple looks ten years younger
after her treatment for arthritis in her hip.

88-year-old Mrs. P. P. suffered for 30 years from acute arthritis. She couldn't walk, and couldn't even hold a book. She was in a great deal of pain and moving about was like torture. When a promotion of Acutouch Pointers was held at her old age home, she didn't even attend. A nurse at the home persuaded the therapist to give her a treatment in her room. Five days after her first treatment she could move her left hand again. As she improved, she treated different parts of her body.

"What happened to me is a miracle. I comb my own hair, I dress myself, I can even hold my arms above my head. But the best thing is that I regained my zest for life. Last year I wanted to die, but now I can live again."

Kirsten Will was diagnosed with rheumatoid arthritis at the age of 33. In the 12 years that passed, the condition grew worse and no therapy could help him. He had been bedridden for 5 weeks when he discovered Acutouch. Treatment started in November 2000, and after 7 treatments he could move around again. By January 2001 he was working again. He is still under treatment, but the disease is held at bay and he can continue with his life.

Lorraine Semple, a 57-year-old grandmother from Germiston, was sent from one doctor to the next after contracting osteo-arthrosis. It was not only the intense pain in the joints of her fingers, but also the excruciating pain in her right hip and leg that were making life extremely hard for her.

After using Acutouch, she was free from pain for the first time in years.

"It's the most amazing invention ever," she says. She proudly adds that people are now saying she looks ten years younger.

Mrs. D. D., aged 58, suffered from rheumatoid arthritis for years. Living with the pain became part of her daily routine, until it became so unbearable that she was given up to 10 cortisones per day.

Her dedication to Acutouch treatment paid off. She no longer uses costly medication, and there are no more side effects.

Fracture pain

Peter Oescher writes: "In February 2000, I was involved in a motorcycle accident that fractured my T11 vertebrae. The fracture was picked up only several days after the event and it was too late for traction. In the months that followed I was in a lot of pain, using anti-inflammatories and painkillers, and I was in a back brace. With my hectic schedule it was not possible to see a physiotherapist on a regular basis. When the pain became unbearable, I went to see a physiotherapist that used a combination of manipulation, massage and Genesen Acutouch Pointers. The effect was immediate. I have since finished my treatment with the physio, but bought my own pair of Pointers that I use regularly on my back for pain and stress knot relief."

Knee pain

Mr. T. S. is an an extremely obese (overweight) individual who was afflicted with a recurrence of gout in his knee joint. He was asked to apply the Touch Pointers to the area. After approximately 10 minutes, he literally danced on the spot to prove how pain-free he was!

Mrs. J. (63) had been living at the coast for years. Except for her knee that wedged her up, there were no complaints about her health. But the pain got increasingly worse in her knee and she suspected it to be inflamed. A year later, with only 1 Acutouch treatment, Mrs. J's knee is still pain-free and she is in perfect condition.

Carpal tunnel syndrome (wrist pain)

Mr. V. B., a middle-aged father of a doctor, had experienced pain and discomfort in his hand. The treatment his son had prescribed had not alleviated his symptoms. After two 20-minute applications of the Acutouch Pointers, the patient was able to get back to playing his guitar for over 2 hours, without any discomfort afterwards. A repeat nerve conduction test gave a result similar to the pre-treatment one, but it is expected that the result will improve dramatically.

Dupuytren's contracture

A skeptic at first, Dr. van Wyk tried the Acutouch to relieve the pain in her hands. She suffers from Dupuytren's Contracture, an ailment that causes the forward curvature of the fingers. During childhood, a flask broke in her hands. She had to receive a series of operations to remove the glass fragments. To make things worse, she also suffers from arthritis in her hands. At times her old injury and the arthritis cause immense pain, but she is assured of pain relief whenever she places her Touch Pointers on her hands. The difference is remarkable, and the pain subsides for days. Her blood circulation is much improved and she expressed that she finds it important to treat according to the Manual.

Restless leg syndrome

Mrs. C. has suffered from insomnia and restless leg syndrome for a long time. After her first treatment she had no trouble falling asleep and her legs were much better. After a month's continuous treatment, she reported that she still feels much more energetic during the day, and her legs remain restful.

Tennis elbow

53-year-old Mrs. N. had suffered from tennis elbow for 10 months. In the course of treatment, she had received three cortisone injections. These had given her only temporary and progressively minimal relief. She was wearing a tennis elbow brace continually, but was unable to play tennis.

Mrs. N. received Acutouch treatment three times a week for two weeks, twice for three weeks, with ten-minute applications on each day. Within three weeks, Mrs. N. no longer required the tennis elbow brace for daily activities, and within four weeks she was able to resume playing tennis with the use of the brace which her doctor advised her to use any time she plays. After checking her elbow once a week, Mrs. N. reported that she has not had any recurrence of the elbow pain. Nine weeks after the initial treatment of Acutouch, Mrs. N. was completely healed.

Ankylosing Spondylitis (Bamboo Spine)

Throughout her medical career, Dr. Cato van Wyk had an unquestionable faith in quality Western medicine. A few years ago, a friend and well renowned businessman was diagnosed with Ankylosing Spondylitis at the Grootte Schuur Hospital. He suffered from immense pain and searched far and wide for some kind of relief. Acutouch miraculously improved his condition and he is now capable of continuing his daily routine, without any pain or discomfort. Dr. van Wyk is now also an Acutouch user.

Lower back pain

A 28-year-old nurse, Mrs. N. P., had a history of Scheuermann's disease. For the preceding 4 years she had experienced lower back pain. After 15 minutes of treatment, she said she felt cured.

M. E., a 29-year-old farmer, had strained his back lifting a heavy object . He complained of severe pain and was unable to straighten his back more than 45 degrees. His wife applied the Acutouch Pointers to his back the following day for 45 minutes. After applying Acutouch, he walked away totally upright, virtually free of pain and no longer using a cane.

Mrs. Marie Theron, a former school principal, is very impressed with her set of Touch Pointers. She uses them for a variety of ailments, but mainly for her injured back, and uses considerably less medication. She recommends Acutouch to anyone who suffers and wants to improve their quality of life.

Neck pain

Mrs. M. S., aged 69, had had a wry neck for 3 days and was unable to rotate her neck. Within 5 minutes of the application of Acutouch to her neck, she had regained the full range of movement. The Acutouch Pointers were applied again the following day. Since then she has remained pain-free.

Shoulder operation

When Mrs. V. (57) injured herself, a doctor suggested a shoulder operation to restore the damage. The surgery was successfully completed and she had to start physiotherapy immediately to ensure that the arm was exercised thoroughly and that it would stay mobile.

Unfortunately, a sudden flu attack withheld her from her physiotherapy and her shoulder became frozen to such an extent that she could not move her arm.

During this painful ordeal she decided to try Acutouch, not expecting much. Happy after the first treatment, Mrs. V. was able to raise her hand slowly above her head. She recuperated rapidly and now experiences no pain.

Broken ankle

October 2001 was unfortunate for Mrs. C. She tripped and fell over a step, tearing all her ankle ligaments and breaking the bones in her foot. Despite medical treatment, she experienced intense pain, and her foot was extremely swollen.

After treating herself for approximately 6 weeks using Acutouch Therapy, the swelling was completely gone and her foot was healed. During this time she used no painkillers or anti-inflammatory medication.

Foot pain

A patient with foot pain was treated locally by his doctor with Acutouch Pointers for 15 minutes. After that, he was able to walk out of the doctor's room without hopping as he did on his arrival.

Mr. S. is a 67-year-old golfer. He presented his new doctor with a problem in his foot. The foot had a deep scar. There had been three operations after a long-standing staphylococcus aureus infection that gave him an abscess on the foot, as well as endocarditis. As a result of the third operation, fusion had been performed. The pain was extreme, especially upon standing and walking, and movement was impaired. His life had come to a standstill — and he could not play golf!

After the first treatment of 25 minutes by his doctor, the condition improved by 80%. Mr. S. has acquired a set of Acutouch Pointers for himself and routinely self-administers treatment (twice each day for half an hour each time). In his own words, "It has improved my life tremendously. Thank you!"

A 62-year-old male patient came to the same doctor with a plantar pain of the right foot. It was basically an inflammation of the fascia. He had had the inflammation for 18 months. The pain was extreme, and he had impaired movement when walking. The cause was unknown. Since the problem was not a life threatening one, the doctor immediately applied the Acutouch Pointers. No other treatment was administered.

Four treatments of Acutouch were performed within 12 days. After the first treatment, the pain had decreased by 80%. After the fourth treatment, there was no more pain. The patient could walk with a normal gait. 3 weeks later, the patient was still 100% better. 3 months later, the doctor had not heard from him again, and assumed that he fully recovered from that inflammation.

Painful thumb

A 57-year-old woman, Mrs. L., complained of rheumatoid arthritis of the left thumb, which had been getting progressively worse over the preceding nine years. After one 10-minute application of the Acutouch Pointers to the base of the thumb, Mrs. L. is pain-free.

Mrs. F. M. is a young woman who had severe pain in her right thumb for the preceding 3 months. Her pain diminished after just 5 minutes of treatment.

Swollen finger

J. P., a 42-year-old doctor, had a paronychia on his left index finger. The Acutouch Pointers were applied. Although he did not noticed much at the time of application, the following day, he was completely pain-free and there was no evidence of redness or swelling. No other treatment or antibiotics were prescribed.

Tissue growth

No treatment had helped a middle-aged woman, Mrs. R. B., who had had marked fibromyalgia for eleven years. Acutouch Therapy was applied daily to the tender areas, and within a few days her whole life changed for the better. The pain went away, and her depression and lethargy also lifted.

Inflamed face

A young female patient had an abscess on the left side of her face above her upper teeth, with an enormous area of redness, heat and pain. Her doctor recommended an antibiotic, but she was totally against the idea. Since he could not perform acupuncture, he administered Acutouch Therapy for 25 minutes. Two days later, she came back for review and he hardly recognized her, since the abscess had totally disappeared. She informed him that 2 hours after the application of the therapy, she felt "terrific" and that she had pressed against the abscess until it burst and drained. Her doctor's own words were ecstatic: "What a fantastic result!"

Muscular cramps

Mr. F. B. is a pilot. His stressful profession added up to his aches and pains, especially muscular cramps that became part of his daily routine. Since he purchased his Acutouch Pointers, his life has been pain-free.
" They work fast, effectively, and are compact enough to travel with," he reports.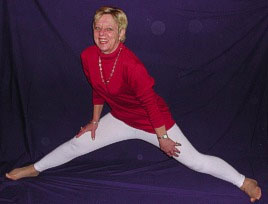 Musculo-skeletal disorders