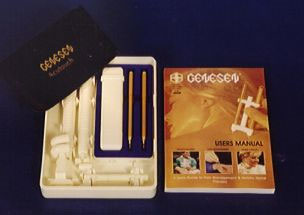 The Acutouch G300TT set comprises the following:
2 G300 TT Pointers (North and South Pole magnets)
1 White spacer to hold the 2 G300TT Pointers during treatment
1 Extension tube to reach down or behind
1 Black holder to hold Pointers in spacer with foam in the front to protect the delicate tips
1 Spare white holder
1 Carry pack
1 Users Manual This device is the original invention and is recommended for home use. A wide variety of conditions can be treated very successfully in your own home. The magnetic strength at point of contact with the skin is 600 Gauss.

Genesen Acurepatch Type C
The Acurepatches have specific uses:
 Small children (neurological disorders)
Adults who do not have a lot of time to spend on treatment
Patients that are to weak to give themselves a full Acutouch treatment
Sports injuries
Back pain
Muscular stiffness and spasms
As a maintenance treatment in conjunction with Acutouch therapy These cost-effective devices are applied locally on the area of discomfort and fastened with a bandage that can be obtained from any pharmacy. The Acurepatch comprises, like the Acutouch, permanent North and South Pole magnets, anions and FIR.
Acurepatch Type C (approximately 15 cm in diameter) is suitable for use on ankles, shoulders, knees, backs and muscles in general. Suitable for small children, the Type C is very successful for head treatment as well. This is a flexible device in a holder for storage and protection.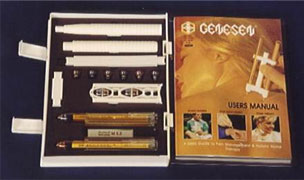 The latest and most versatile addition to the Genesen stable. Developed with the professional and discerning home-user in mind. The 800 Gauss magnets ensure greater results over a shorter period of time. Also suitable to massage with. The Acutouch Gold Plus M5.2 set comprises the following:
2 M5.2 Pointers
1 White spacer to hold one set of M5.2 Pointers during treatment. This specific spacer comes complete with space to attach a second set of M5.2 Pointers.
1 White extension tube to reach down or behind
1 Users Manual
1 Carry Case
3 Types of tips. The tips can be changed according to the patient's sensitivity.The covered tips are used for frail or elderly patients who tend to be sensitive to the needling sensation. These will not break the skin and are ideal to use on children and animals. Any area can also be massaged with the covered tips on, before or after formulae treatment. The medium tips are used where greater therapeutic effect is required, but the patient can not tolerate the full needling sensation. The open tips are used for optimal results.